Diggin' It is located in the renovated and refunkified old Greyhound Bus Station. You can find us 3 blocks off the square in Historic Downtown McKinney. We specialize in funky garden goods, far out flora and hip house stuff.
| | |
| --- | --- |
| What's the buzz? Tell me what's a-happening.. | June 2014 |
Hola, Diggin' It groupies,
Had an awesome spring - sold lots of parsley, sage, rosemary and thyme. Speaking of thyme, it's time for summer - big sun, big sky, big fun. Diggin' my new neighbors across the street! Have lots of new classes, lots of new artists, and lots of funky, cool clothes and new stuff.
The newest of the new is our Second Sunday Spiritual Book Club (July 13th) from 3:30-5:30pm AND our Little Free Library which puts Diggin' It on the world map!
Latest Buzz
New
at Diggi
n' It: Little Free Library
Our Little Free Library is in the old, repurposed telephone booth. Take a book. Return a book. Our Little Free Library puts Diggin' It on the world map, world map, WORLD MAP! Dedication July 13th at the first spiritual book club discussion.
New at Diggin
' It: Sona Knox's Hands of God
Sona Knox of The Art House in McKinney has graced Diggin' It with her unique sculptures called "Hands of God." Bless your home. Bless your friends. Bless your family with these one-of-a-kind creations.
Whirlygig
Another Newbie: Cookie Arroyo's Handcrafted Rosaries!
Native McKinneyite Cookie Arroyo crafted her beautiful handmade rosaries from beads, stones & religious medallions. Hang them on the wall. Hang them around your neck. Use them in your spiritual ceremonies.
Whirlygigs just in time for summer winds!
Mesmorize yourself, your family and your neighbors with these fantastic whirly, swirly, squirrelly gigs!
Recurring & Upcoming Events
Mondays at 6:30pmClass Fee: $5
Relaxed exercise with music and candlelight! This is a slow beginner class but offers some challenging postures as well. Taught by Sandra Douglas, a retired public school teacher who has been doing yoga for 13 years and who was certified in India in 2010. Space limited-call 469 952 3446 to reserve your mat ASAP!
Meditation
Wednesdays at 6:30-8:00pm
Suggested donation: $15 per class or $40 per month
To "be the change you wish to see in the world," we must first be able to know what it means to BE. Meditation is a way to connect with our inner BEing, often overlooked in today's hectic lifestyle. Studied and researched for decades in multiple countries, meditation has proven to be an effective tool in quieting the mind, creating a deep sense of inner peace, and to release tension and stress from the body and mind. Classes facilitated by Alyssa Summey.
Knittin' With Nita
2nd Thursday of each month at 6:30pm
Class fee: $5 for old knitters, $25 for new knitters (instructions/materials provided)
You too can knit in this Diggin' It class with Nita Thedford! Nita can help you whether you're just beginning or simply need a few pointers with knitting company! Email Nita at

nitathed@gmail.com

or inquire at Diggin' It (469-952-3446) for the theme and fee of each class and to register. Happy knitting!
Reiki Healing Drum Circle
Second Friday of each month at 7:00-9:00pm
Join us for an evening of healing rhythms led by Andre Jones, celebrating Summer with the theme "Drum Your Passion"! In this class drums and other noisemakers will be transformed into vibrational healing tools. You don't need any drumming experience for this class as the philosophy of drumming is about connecting to the beat within you, as healing, like rhythm, comes from within you. Drums (or other noise makers) will be available for you to use or you can bring your own.
Vision Board Collage Workshop
Fourth Friday of each month at 6:30-8:30pm
Class Fee: $25
Join Debo for a vision board collage class that uses self-expression as a means of self-awareness. All skill levels welcome--this class is about the process of self-discovery! Start off the evening on an introspective note by drawing an angel card to jump-start the process before creating a personal collage to explore your thoughts, motivations, goals, and wishes. Share as much of your self-discovery as you would like. All materials will be provided. Call Tracey to reserve your seat!
Second Sunday Spiritual Book Club
Second Sunday of each month at 3:30-5:30pm
Suggested Donation: $5
A book discussion of "The Untethered Soul" by Michael Singer (July 13th) led by Wisdom Seeker, Sharon Clayton, LPC. Please read in its entirety before discussion and bring your thoughts and questions. Bring something munchie to share if you are so inclined, if not, no biggie wow wow. Space is limited. Call 469 952 3446 to reserve your spot.
Note: August 10th book review will be on Marianne Williamson's "Return to Love" and September, October and November book review will be Gary Zukav's "Return of the Soul" 25th Anniversary Edition
Awakening Your Soul: Touch Drawing Class
Sunday, June 22nd at 2:00-3:30pm
Touch Drawing is one of the most beautiful, creative and expressive art techniques. It has endless applications as a tool for therapy, creativity, and spiritual awareness. It is a simple, yet profound, process. All you do is touch paper that has been placed over a surface of paint. The resulting impressions from your hands are seen on the other side of the page. Lines flow directly from your fingertips. You will be guided by music and visionary spiritual artist, Pete Taboada.
Astrology 101
Saturday, June 28th at 3:00-4:30pm
Suggested donation: $10
Houses, planets, suns, and moons - oh my! - do these celestial bodies confuse you? Find out what they mean with Teresa Smith. This class is offered for people with little or no knowledge of astrology but who would like to better understand the interpretations of their birth charts. Space is limited. Call 469 952 3446 to reserve your spot.
Sacred Stitching
Sunday, June 29th at 2:00-5:00pm
Class fee: TBA
This class is designed to help you meditate while sewing. Learn basic embroidery stitches while focusing your mind on your breath. Not only is it relaxing, but you will also create a meditation cloth that helps you ascend you to that level of meditation more easily. You can purchase supplies from the instructor, Jill Luigs, or bring your own. Call for more information and to reserve your spot.
The Art of Beingness Art Event
Saturday July 19th, 1:00-5:00pm
Join four local spiritual artists in a unique visionary and spiritual art fest. This day will be dedicated to sharing art that inspires creativity, awareness and enlightenment for the soul. Art Fest attendees will also have the opportunity to co-create with the artists by participating in an original community art project. The participating artists are quite varied in their mediums and will be sharing the source of their inspiration, how they create their art, and have original artwork for purchase.
Word Mandala
Saturday, August 2nd, 10am-4:00pm
Class Fee: $55
A mandala is a circular artwork often used for meditation. Learn how to design your own personalized mandala based on a word of your choice. It can be your name, a family name, business name, or any word that is meaningful to you. You will receive step by step instruction on how to draw and color an 8.5" x 8.5" mandala that is unique to you. No previous art or mandala experience is needed. All supplies are included.
Fredda's Mosaic Birdbath Class is BACK
Saturday, August 09th at 10am-1pm
Class fee: $85 (all materials provided)
Multimedia artist, Fredda Perkins, is reviving her much-loved mosaic birdbath class. Limited space available. Deposit required. Call 469 952 3446 to reserve your spot. AND, in case anyone wants to bring Tracey cake, it IS her birthday!!
- Words from the Universe: as written on the new inspirational Quotes wall! -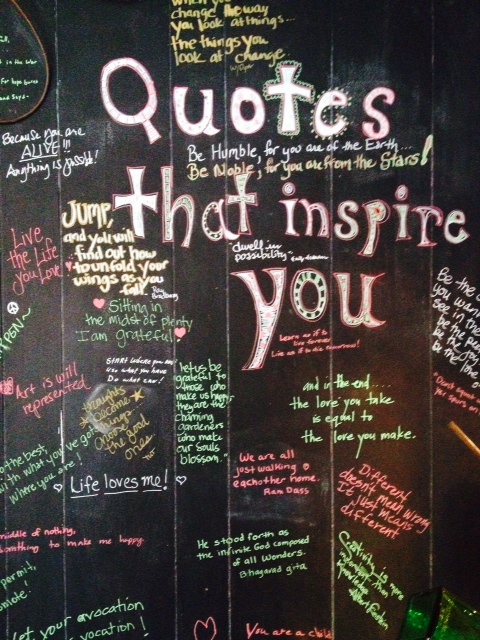 - Drop by to add to the collective wisdom! -
Diggin' It
Tracey Collins
507b North Tennessee Street
McKinney, Texas 75069
469-952-3446
Diggin' It

|

507b N. Tennessee

|

McKinney

|

TX

|

75069